Weekends 
Redwater Rustic Grille is centrally located in the lobby of The Holman Grand Hotel, Downtown Charlottetown. Redwater Rustic Grille's market driven menu is a fresh interpretation of local East Coast products and contemporary West Coast cuisine making for unique signature dishes and innovative creations. Our goal is to provide a memorable dining experience and to offer an experience that is of value to our guests.
Location:
123 Grafton Street, Charlottetown 
Contact: 902-367-8340
Head Chef Chanelle Doucette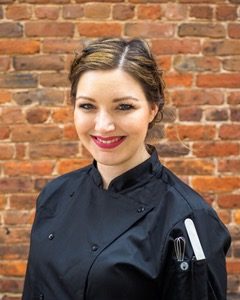 Raised in the farming and fishing community of Tignish, Prince Edward Island, Red Seal Chef Chanelle Doucette has long revered the bounty of flavourful local produce and delectable shellfish that Atlantic Canada has to offer. This appreciation ignited the early passion for cooking and baking that led her to enroll in the Culinary Arts program at The Culinary Institute of Canada. After graduation, Chanelle completed her internship in 2011 under the acclaimed Chef Valerie Morrison at The Emerald Lake Lodge in Field, British Columbia.
Chanelle returned to the island to hone her craft at The Dundee Arms under Executive Chef Patrick Young. Later, she worked at The Wheelhouse in Georgetown. Most recently, Chanelle joined as pastry chef under Executive Chef Leslie Flynn at Redwater Rustic Grille, bringing a wealth of knowledge with her. Chef Chanelle's masterful refinement of contemporary flavours quickly became indespensable at Redwater, and in July of 2019, Chanelle was promoted to the position of head chef.
Outside of the kitchen, Chanelle enjoys running on the iconic red sand beaches of Prince Edward Island and writing articles that highlight local culinary events. At work, Chef Chanelle and her talented team look forward to showcasing the top of available AAA beef, along with the Atlantic Canadian seafood and produce that first instilled Chanelle's passion for cooking.
MENU
Appetizer
Spiced squash salad, toasted barley, date vinaigrette, Glasgow Glen Beer Gouda cheese puff
Main
Duck breast with chili chocolate glaze, root vegetable and potato gratin, sour cherry compote
Dessert
Caramel apple cake