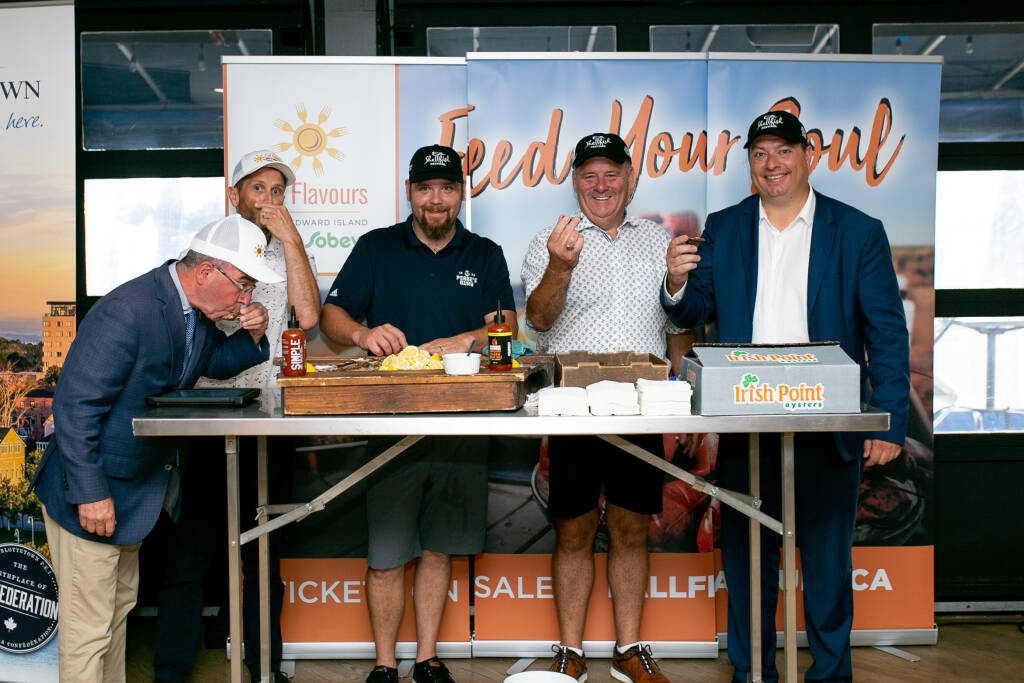 August 5, 2021 – Charlottetown, PE – Tickets for the PEI Fall Flavours Festival and PEI International Shellfish Festival are now on sale. New details about each festival were also released today, including the biggest entertainment line-up ever for the Shellfish Festival, new Fall Flavours events, and the slate of guest chefs set to host festival events.

"It's great to get back to doing what PEI does best. It's no secret that Prince Edward Island is Canada's Food Island, and these festivals are a big reason why," said Minister of Economic Growth, Tourism and Culture, Matthew MacKay. "After the last 17 months, both Islanders and our visitors are craving connection, community, excitement and delicious Island food. These festivals are the perfect opportunity to promote our world-famous hospitality and our Island culture that makes PEI so special."
For the first time ever, the two festivals will kick-off together with Feast & Frolic presented by Lobster Fishers of PEI on September 16 at the Charlottetown Event Grounds. Chef Ned Bell will co-host the event alongside local talents including Chef Jesse MacDonald, Chef Andrew Smith and Canadian Chef of the Year, Irwin MacKinnon.
The Shellfish Festival, which is celebrating its 25th anniversary, will feature three jam-packed days and nights of shellfish celebrations, including an impressive line-up of live entertainment. Chef Ned Bell, founder of Chefs for Oceans and Chef Ambassador for Ocean Wise, will host the weekend's celebrations.
This year's headlining acts at the Shellfish Festival include Newfoundland sensation, Alan Doyle, and the ever-popular Big Bad Party Band. Logan Richard, The Love Junkies, and Fabulously Rich will also make appearances on the mainstage, along with other talented Island entertainers.
"On behalf of the City Council and all of us here in Charlottetown, we say a huge thank you to the entire organization and of course the many sponsors who have made the PEI Fall Flavours Festival and PEI International Shellfish Festival possible," said Charlottetown Mayor Philip Brown. "The success of both these festivals is phenomenal, and relies on the hard work and determination of many volunteers committed to them year after year."

A full slate of Industry competitions will run throughout the weekend, including the Garland Canada Chef Showdown. This intense culinary competition will see 4 incredible chefs from across Canada compete live for a $10,000 prize. This year's competitors are Chef Carmen Ingham of The Pointe Restaurant at the Wickaninnish Inn (BC), Chef Kyle Puddester of Fork (NL), Chef Phil Nguyen of Nuoc Mam and Open Concept Hospitality (ON), and Chef Samantha Medeiros of La Palma + Casa La Palma (ON).
A new ticketing format at the Shellfish Festival will allow festival-goers more flexibility to choose between an afternoon-only pass starting at $10, an all-day pass starting at $35, or a weekend pass starting at $70.  The new afternoon pass will allow entry to enjoy the industry competitions, food pavilion, and local entertainment on the mainstage, but excludes access to the tent during the evening headlining acts. Festival-goers will also be able to enjoy contactless payment, with the introduction of a rechargeable card that can be loaded with Shellfish Bucks and used through tap at all vendors.  
The PEI Fall Flavours Festival presented by Sobeys is also coming back in full force. Set to run from September 16th to October 10th, the Island's premier culinary festival will feature a jam-packed schedule of food events and adventures hosted by new and returning guest chefs.
Tickets are now on sale for all Fall Flavours events, including the festival's first-ever all-inclusive 3 day culinary experience hosted by Island East at Rodd Brudenell River Resort.
The exclusive three-day, two-night package, By The Sea, Under the Harvest Moon, will feature an opening reception, live comedy, an immersive activity of the guest's choice, a signature dinner hosted by Chef Corbin Tomaszeski, and all other meals. Guests are encouraged to purchase this package early due to very limited capacity.
This year's festival will also feature a number of new culinary events alongside popular returning favourites. Brand new events include the Cavendish Beach Couples Classic – Fall Edition, a non-competitive golfing and culinary event, the Fall Flavours Food Hike, and Street Feast, a 2-day celebration of food and farming set to take place in downtown Charlottetown.
In total, the Festival will host 13 Signature Events, including its Taste of Coastal Communities series presented by Atlantic Lottery. Culinary events, culinary adventures, and local dining experiences will round out the festival's packed schedule.
As always, the Fall Flavours Festival will welcome guest chefs from across the country to work alongside local chefs at its Signature Events. Confirmed guest chefs include Ned Bell, Michael Smith, Jesse Vergen, Renee LaValle, Stephen Barrett, Alaine Bosse, Patrick McMurray, Corbin Tomaszeski, Lynn Crawford and Chuck Hughes. 
Tickets for the PEI Fall Flavours Festival and PEI International Shellfish Festival are now on sale. Save 10% when you buy before August 31st. For more information and to purchase, please visit www.fallflavours.ca and www.peishellfish.com.
For more information:

Jennifer Paynter
Director of Marketing | The PEI Fall Flavours Festival & PEI International Shellfish Festival
902.370.3397
jennifer@versatilegroup.ca
Reference
The PEI International Shellfish Festival Ticketing Options Thursday September 16th – Sunday September 19th, 2021:
Thursday Feast & Frolic presented by Lobster Fishers of PEI: 6:00 PM – Early Bird $155.00 Regular $170.50
Friday Afternoon Pass: 12:00 – 4:30 PM | Early Bird $10.00 Regular $11.00
Friday All Day Admission: 12:00 – 11:00 PM | Early Bird $40.00 Regular $44.00 * Receive free Sunday Admission
Saturday Afternoon Pass: 12:00 – 4:30 PM | Early Bird $10.00 Regular $11.00
Saturday All Day Admission: 12:00 – 11:00 PM | Early Bird $35.00 Regular $38.50 * Receive free Sunday Admission
Sunday All Day Admission: 12:00 – 5:00 PM | Early Bird $10.00 Regular $11.00
Weekend Pass; Friday – Sunday – Early Bird $70.00 *Only available until August 31, 2021 or while supplies last
All ticket prices have HST and additional fees charged in addition.
Early Bird Pricing in effect until August 31, 2021
The PEI Fall Flavours Festival Signature Events:
Feast & Frolic presented by Lobster Fishers of PEI, Thursday September 16, 2021 | Hosted by guest Chef Ned Bell
Beef N' Blues, Friday September 17, 2021 | Hosted by guest Chef Michael Smith
Clammin' & Jammin, Saturday September 18, 2021 | Hosted by guest Chef Alain Bossé
Savour Victoria, Thursday September 23, 2021| Hosted by guest Chef Lynn Crawford
Toe Taps & Taters, Friday September 24, 2021 | Hosted by guest Chef Jesse Vergen
By the Sea Under the Harvest Moon, Friday September 24 – Sunday September 26, 2021 | Hosted by guest Chef Corbin Tomaszeski
Oysters on the Pier, Sunday September 26, 2021| Hosted by guest Chef Patrick McMurray
PEI Lobster Party, Friday October 1, 2021 | Hosted by guest Chef Michael Smith
Street Feast, Friday October 1 – Saturday October 2, 2021
Harbour Feast, Saturday October 9, 2021 | Hosted by guest Chef Chuck Hughes
The PEI Fall Flavours Festival Taste of Coastal Communities Events:
An Evening at Red Shores – A Taste of Coastal Communities, Wednesday September 29, 2021 | Hosted by guest Chef Renée LaVallée
Taste of Georgetown, Thursday September 30, 2021 | Hosted by guest Chef Stephen Barrett